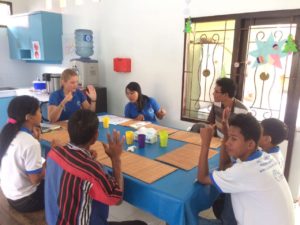 Kolewa shelters children and their parents at the 'Rumah Bicara'  shelterhome in Denpasar, Bali. In 2016 Rumah Bicara was expanded to provide the opportunity to shelter more children. We feed 30 to 35 people every day! That is why money is needed on a daily base for further exploitation!
Please donate!
We were able to help 60 children since the summer 2016, because of the extra dorms, the large recreation room as well as the extended kitchen. These children come from Sumba, Flores, Timor, Rote and Bali. In 2017 even more as you can read in our annual review.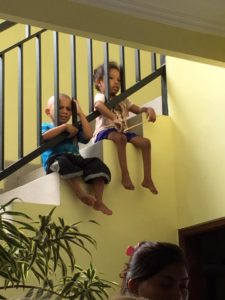 At "Rumah Bicara" conversations with the parents are held and newcomers are observed during intake-mornings. On this basis a fitting program is organized, and if possible,  hearing devices will be provided with the help of the Kolewa Foundation.
Field partner Yayasan Corti has a elementary school for hearing impaired children. Here we refer our eligible patiens to,  for daily education. At Rumah Bicara there is an option for extra speech therapy and also attention is payed to education and creative play.
Families of cleft-lip and palate patients are guided and completely taken care of by the fundings of the Kolewa Foundation. Our staff takes care of healthy food, medication, education about hygiene, etc. The stay of the kids and guiding families vary from 21 days to 6 months at the shelterhome. The length of their stay depends on the severity of the disease. Surgeries and (dental) treatments takes place at the settings of our Indonesian field partners.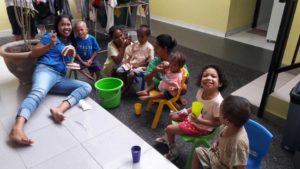 Our annually goal is to offer surgeries, care and shelter  to 120 – 150 cleft-lip children (and other additional disabilites) at the Kolewa foundation. In the Policy Yayasan Kolewa Harapan Indonesia 2018   you will read the details.