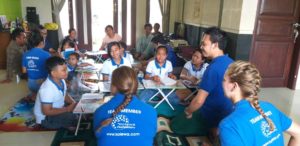 There is a regular place for interns from different pieces of training in medical care.  Interns social work, speech therapy, pedagogy, dietetics etc. can offer a useful contribution by us and can gain lots of experience in a different culture. One period of internship with us is at least 3 months.
In consultation an internship program is drawn up. Basically, you help with the common tasks and working activities and besides that additional assignments. We teach children English and train creativity, music and cooking. In addition, we regularly take a special trip, for example to the beach. You also occasionally go to the deaf school and a local school to teach English.  For interns and volunteers, we work together with Young Professionals Internship (YPI). The accommodation is arranged for them through residence. Look at their site for more information. We ask interns and volunteers to commit to raising funds prior to their arrival.
Volunteers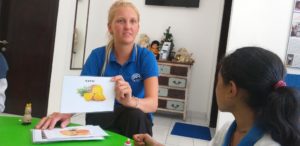 Volunteers too are warmly welcomed. We have volunteers who live in Bali and people that come for a specific period from The Netherlands or other countries, to help at Kolewa. Just like the interns, the volunteers work daily for at least three months.
Potential interns and volunteers come through several routes in contact with us. We are working together with Young Professionals Internships (YPI) Through them, accommodation for your stay will also be arranged. Look for further information at their website.
Apply for an internship or volunteer work?
Sent your application letter and your curriculum vitae to info@kolewa.com. Our minimum requirements are:
College or university education (in case of an internship)
You can work independently and in a team
You are interested in other cultures and habits
The English language is no problem for you
Proactive
When there is mutual interest an application interview will be scheduled, either in the Netherlands with one of the board members (or through Skype) as in a Skype session with Syta Plantinga (CEO Kolewa).
We are looking forward to seeing your application!