We help children with congenital disorders, such as:
Cleft lip
Open palate
Hearing problems
Anusatresie (born without anus)
Other disorders (hydrocephalus, burn wounds, spinabifida and more)
Cooperation with field partners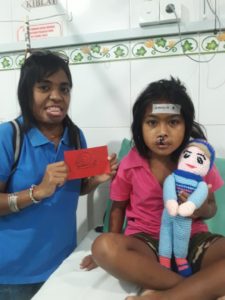 All cleft lip surgeries take place in the Dharma Yadnya Hospital in Denpasar under supervisory of the plastic surgeon dr. Asmarajaya. With support of the Rotary Club Nusa Dua, a Memorandum of Understanding was created.
Together with the John Fawcett Foundation,  and  Sanglah Hospital in Denpasar we make surgeries and revalidation possible for children with eye problems and untreatable burns (and deformities because of maltreatment of burns). Moreover, with the help of the John Fawcett Foundation it is possible to send patiënts with serious burns to Australia for surgeries.
Lumina  Hearing Center is our partner in testing children with hearing impairments. We hire them for  hearing test, providing hearing devices and the maintenance of it. A professional institute to assist our program for deaf and bad-hearing children.
Yayasan Corti supports our patiënts with hearing impairments in providing education, speechtherapy and fysiotherapy.
Yayasan Puspadi supports patiënts by making the orthopedical devices. The are situated in the Anika Linden Centre where also physiotherapy for our patients is available.