The effects of an exploded oil lamp, cooking on the floor or playing with fire are disastrous when you live on an island without any medical facilities. It happened Heldi, Inkgy, Marcella, Sayang, Jeni, Madun and many other children. Horrible scars and adhesions are the consequences.
Heldi, 12 years an unbearable existence…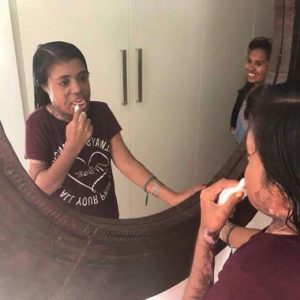 Surgery in Indonesia is in a few cases not possible. In cooperation with Australian and Dutch doctors possibilities are searched abroad. Ingky and Heldi traveled to Perth. Lovingly cared for by a guest family and a big group of volunteers made this a somewhat bearable period. For all involved an intensive and valuable period, but certainly very worthwhile. After years of living in an isolation and a crippled existence, these children/adolescents come back to life again. Kolewa foundation opens the door to a future life and stays with them after surgery for revalidation and helps with further developments.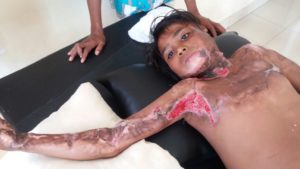 Often we scout serious cases such as Heldi and Ingky or Sayang. With a first operation a step forward has been made, a few more need to follow though. In 2018 dr. Tim from Perth came to Bali and made follow-up corrections. In 2019 we will continue and again money is needed to offer traveling and shelter for the patients. New patients shall be taken separate under your attention with a special cyr for help!.