A large part of the population on the islands in Indonesia has no connection to drink water taps. Bottles of water is unpayable for them. This means they depend for drinking water from rivers or raining water. This water is contaminated and causes many diseases, especially for children. Therefore, the problems will be piled for people who already have enough to endure.
However, there is a relatively simple and cheap solution to this problem. This is the Tulip Water filter, a Dutch invention that is being made in India. This filter, that consists of carbon, silver and ceramics, filters even the dirtiest river water for 99.995% of unwanted substances like parasites, harmful bacteria, and disease other germs. These substances cause cholera, diarrhoea, typhoid, and parasitic diseases such as cryptosporidiosis and schistosomiasis.
Two buckets, a filter, and water from a tap: that is all it takes to ensure healthy and safe drinking water. The filters are imported, the buckets for filtering the water is produced locally. The plastic used for the buckets is safe and therefore does not give harmful substances to the water.
The team of Kolewa takes care of distributing filters during their visits to the outreaches in the remote areas. For just a small contribution, you give a family the possibility for clean and safe drinking water. Not only in Bali but also on the NTT islands like Rote, Sumba, Sumbawa, and Timor.
Do you want to help us?
For € 25 a filter system has been purchased and a whole family is assured of clean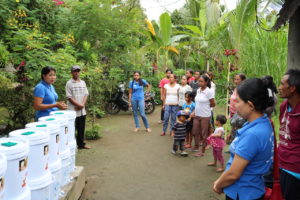 drinking water for 2 years. Our team makes sure the filters end up with the families. We check regularly  the filters and that they are used in the correct way and are kept clean.
Do you want to contribute to the health and safety of one or several families? IT WORKS and the families are incredibly happy with the filters. The news spreads quickly, leading into a fast-growing waiting list for a filter. We aim for distributing yearly 400 water filters. Therefor we need your donation.