A substantial part of the population on the Indonesian islands has no access to tap water. They cannot afford to buy bottled water. This means that they depend on the rivers or on rainwater for their drinking water. This water is contaminated which leads to the onset of many diseases, especially among children. So we see an accumulation of problems for people who have enough on their plates, to begin with.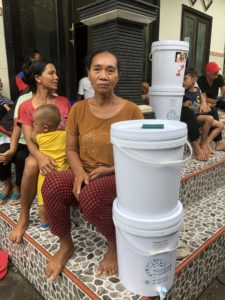 However, there is a relatively simple and cheap solution to this problem:
the Tulip Water Filter, a Dutch invention that is manufactured in India. This filter, which contains carbon, silver and ceramic, removes 99.995% of undesirable substances such as parasites, harmful bacteria and other pathogens from even the filthiest river water. These substances cause cholera, diarrhoea, typhus and parasitic diseases such as cryptosporidiosis and schistosomiasis.
Two buckets, a filter and a tap: that's all it takes to provide healthy and safe drinking water. The filters are imported by an orphanage under Dutch management in Denpasar and purchased by Yayasan Kolewa Harapan Indonesia. The buckets in which the water is filtered are produced locally. The plastic that is used for the buckets is safe so harmful substances are not released into the water.
Since 2017, Kolewa has collaborated with "Vrienden voor Schoon Water (Friends for Clean Water) Indonesia", a private initiative of a number of Dutch expats in Bali. Since 2014, they have been taking care of the assembly of the filtering systems, a few thousand of them so far.
During their outreach visits, the Kolewa team can distribute filters in remote areas. Donations from private individuals and funds enable us to provide families with clean and safe drinking water. Not only on Bali but also on NTT islands such as Rote, Sumba, Sumbawa and Timor.
Our question to you:
For €25 we purchase an assembled filtering system including buckets and with it, an entire family is sure to have clean drinking water for 2 to 3 years. Our team takes care of distributing the filters among the families. We also carry out random tests to check whether the filters are used properly.
Would you like to contribute to the health and safety of one or more families? In the period from January until May 2018, a €5000 donation enabled us to distribute 180 water filters. Of course, we want to move forward! IT WORKS and the recipients are very happy with the filters. The news is spreading fast, resulting in a rapidly growing waiting list for a filter. We aim to distribute at least 400  filters in 2019.
Will you help us?
Kolewa Foundation is a Dutch NGO with ANBI status (Public Benefit Organisation). Legalized by the Ministry of Human Rights Jakarta, in Indonesia we work under the name Yayasan Kolewa Harapan Indonesia. Syta Plantinga is the founder of both organisations and resides in Bali for a large part of the year. She and her husband often join the outreach team and are able to see the positive effects of well-executed aid projects for themselves.