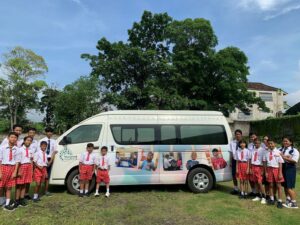 Kolewa offers help in various ways to a group of about 75 children from Karangasem and Denpasar with hearing problems. Among other by research, testing and speech therapy, together with Lumina Hearing Centre, our external hired partner. After several years we noticed that a group of 8 children had developed in such a way that they were ready to go to school. Because the school was about a 1.5-hour drive away it was rather difficult to realize this. We needed to find funds for a bus, school fees, clothing, and stuff, and from 2017 we have found it! In 2019, even a larger bus was needed and already 18 children had access to special education. In 2023 the group has grown into 21 kids.
In Indonesia, special education is not as obvious as in the Netherlands. Children being deaf or being hard of hearing should go to a special school and that costs a lot of money. If there is no money, the children are doubly unlucky. No education and not learning to talk and communicate make it almost impossible for these children to find a job later. By them hear problems the children are behind. By giving them good education, they are going to have a promising future
Yayasan Corti
With the help of several involved sponsors, these children can go to school! A great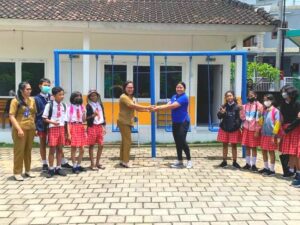 />opportunity for both parents and their child with hearing problems. The Sushrusa Deaf School, initiated by our partner Yayasan Corti, offers regular education that is tailored to deaf and hard hearing children. With well-trained teachers and a hearing centre in the same building, our students feel fully comfortable. From an isolated home situation to a safe and interesting place that offers a future. We see most children making enormous progress in big steps. In some single case, however, the impact of the traumatic prior years is so huge that additional counselling is needed. Fortunately, that too is available.
Additional lessons by the Kolewa Team
Parents are intensively supported in the communication with their child and the acceptance of the situation. We work intensively on a positive way of approaching the problem and offering solutions. Every Saturday and Sunday afternoon there is a free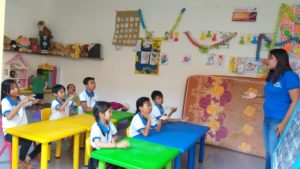 walk-in in "Rumah Bicara", our shelter in Denpasar. All our staff members are trained in sign language and with the presence of two of our teachers, Ersa and Holldyn, there is a fun and educational program of two till four hours.
Our plans in 2023/2024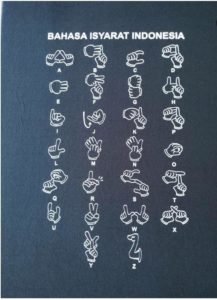 As mentioned before, there is daily a group Kolewa-children going school. At present we count 21 kids who already were admitted in our program for special education. The parents of the children do not have the financial means for the school. Kolewa finances the one-off registration fees, the costs for the uniforms, schoolbooks, and annual contribution for the use of the school building. Next to that Kolewa pay the monthly tuition for the kids. The extracurricular activities such as a school trip, dancing lessons or swimming are charged extra to us by the school.
Then there is our school bus. The school is about 1.5-hour drive from Karangasem. With the help of sponsors, we have bought a schoolbus to transport the children. The children are brought up and down to school by our driver Komang every day. Also, for salary of the driver, for petrol and maintenance of the bus we must invoke again for funds in Europe.
Many actions have been taken over the years to raise funds for the schoolbus and school contributions. Through social media, press releases and our ambassadors, we were able to raise enough funds to pay for the school bus and let these 21 children go to school. For 2024 we want to continue doing so or even want to give another 4 children the opportunity to join special education. We would like to get in touch with funds, companies, service clubs and individuals who want to continue supporting this project. Please contact us for more information.

Family gatherings deaf and bad hearing
Every year, the Yayasan Kolewa Harapan Indonesia team, together with volunteers, interns, and board-member Putu from Karangasem, organizes a family weekend in Bali for parents and children with hearing disorders. Knowledge and experience sharing and new developments in the medical world and education are central topics during these weekends. For the children, the accent is on speech therapy, creativity, sports, and play. The evenings are informal but are fully used by the parents to exchange information about the education of their child with their disability