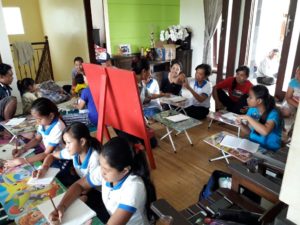 Since 2014 Kolewa offers help in several ways to a group of about 25 children with hearing impairment from Karangasem. Together with our Lumina Hearing Centre we do research, we finance hearing tests and hearing devices.
Every week the Kolewa team goes to this poor part of Bali to give speech therapy and sign language lessons. The lessons take place in the house of midwifes ibu Putu (see picture).
Interns from the Hanze Hogeschool from Groningen (the Netherlands) have made a small sign language book for parents with explanation on how they can support their child at home.
Parents get aware of the fact that their children are able to learn and to communicate, that they are eager to go to school and that hearing problems do not have to be an obstacle for development.
After some years we saw a lot of improvement! The children are less shy, are taking more actively part of activities and are eager to learn new things!
2017: Time for a step ahead!
About 8 children were ready to go to school. In their own area there is no education possible, however at a distance of approximately 1,5 hours driving there is! At our field partner the Yayasan Corti School. In combination with extra lessons of our staff and interns at Rumah Bicara they could develop so much more. We had an ambitious plan: From 2017 we made education possible for these children, thanks to a lot of great support and donations and the arrival of the Kolewa-schoolbus!
What did we need and how did we get it:
We needed funding to finance transportation, school money, uniforms, books and more. One time cost need to be made to buy a Suzuki bus and costs for schooluniforms and the applications for school. And also monthly expenses for a driver, fuel, insurance and maintenance of the car and the school money. Right here you can read the annual report school-project 2017.
Review schoolproject 2017 – website

Schoolproject deaf children 2018 will be continued with your help:
Since July 2018 already 15 children enjoy daily education thanks to our sponsors and donors. This special education for deaf and bad-hearing children is one of the most important and successful projects of Kolewa. But we are not done! More kids are waiting for help.
One time donations are always welcome, no matter the amount. It would be fantastic if we could raise the needed budget again with your support.
We are looking for a company that will provide us a bigger schoolbus for the transportation of at least 15 children daily. Please contact us if you are interested  through info@kolewa.com
You can also direclty transfer to our bank account: Swift ABNANL2A IBAN: NL79ABNA0980910668,  add 'School project' as an announcement
Adopt the School project: It is also possible to support this project through an monthly donation. This will contribute to the stability of the project and a better chance of succes. Every donation is welcome. Donate here your regular contribution.
If you wish, we can inform you about the progress on a regular base. For example by a regular written report with pictures of the progress. Contact us if you want to know more.