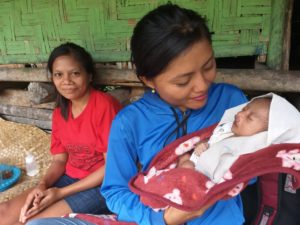 At this moment, our employee Widia finds herself in Sumba, in the area around Tambolaka. Sumba is one of the poorest islands in Indonesia. Tourism doesn't have a huge influence over here yet (it is in its starting phase) and therefore the tourism does not have a lot to offer. The population is often struggling to try to survive due to the enormous drought over there and medically seen there aren't a lot of treatments possible. Since one and a half year, Widia travels to the island every month to scout, to pick up children and to bring them home again. This is an intensive and very risky job because of the bad infrastructure and sometimes the job can be heartbreaking. Together with our local scout Silas, Widia visits village after village to offer the families with schisis children help.
Just now, Widia sent us a couple of photos of the small Daniel Bulu. In front of a, from a western perspective, shabby green house, the mother of Daniel sits with baby Daniel in her arms. The mother looks into the camera, shyly smiling. She is still so young! Actually too young to deal with all the things that are happening to her right now. After 9 months of pregnancy, she gave birth to a child with a multiple cleft lip. This all happened one and a half month ago and still, she and her family are shocked about the event. Of course, the mother loves her child, but she also knows from her experience that children with a condition like this will have a tough time in the close and primitive thinking community where she is a part of. When Widia en Silas paid the mother a visit, it turns out that the future of small Daniel isn't the only problem.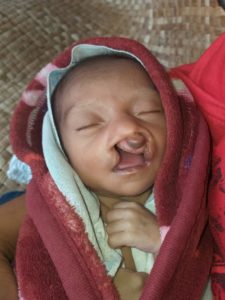 IT CAN'T BE MINE! It is not the first time that I have heard a reaction like this in Indonesia. Regularly, it happens that the father of the child can't believe that the child with the hare lip is really his. The young mothers are then sent away by the fathers, back to the parental home to never return back to them again.
This also happened in this case. The mother of Daniel is on her own right now and has to take all the care of the baby. But one thing is for sure: Daniel is her child, she loves him and together with us, Stichting Kolewa, the mother won't give up on him. We'll first make sure that Daniel will quickly gain weight. We'll provide him with healthy baby milk and he will be operated in Bali, as soon as he is 3 months and 5kg and when we have found a sponsor for the travel and verb costs. With such a cleft, there is still a long journey to go, but we will take this road together.
We can use a lot of help to achieve is this! Your financial contribution is very welcome, a future with a smile for a small baby Daniel!