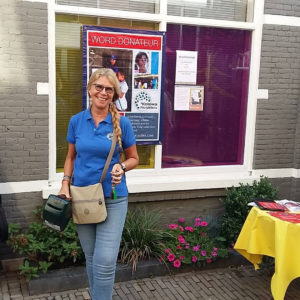 Via this website you can become a regular donor of Kolewa Foundation or make a one-off donation towards the much-needed schoolbus for deaf and hearing-impaired children in Bali. I look forward to your belated birthday gift!
In 2009, I, Syta Plantinga, arrived in Bali intending to revive the previously established Kolewa Foundation. In possession of a hundred second-hand hearing aids, I went looking for contacts in the world of the deaf. In Denpasar I found a nursery school that is linked to a local hearing care professional and at the Denpasar General Hospital I met ENT specialist Dr. Eka. Step by step, the network was expanded, as was Kolewa Foundation in Indonesia. We've since grown into a registered "Yayasan Social" (NGO) with a shelter home for children who need medical care (e.g. cleft lip and palate treatment'; we have a school project for deaf and hearing-impaired children and with our outreach team we scout on many of the poverty-stricken islands within the Emerald Belt. We help where we can, within Kolewa's focus areas.
Since 2009, we've continued focussing on deaf and hearing-impaired children and their families. With the help of Dutch volunteers, speech and language therapy students and the local midwife in Rendang, I started to identify children with a hearing impairment in Karangasem, Bali. In Nusrani Putu's house we were given the opportunity to provide information, speech therapy and sign language. The eight-member Kolewa team didn't know sign language so they first took classes themselves!
Every Sunday we are in Karangasem. The group is growing and growing! Not only are the children educated, the parents learn how to communicate differently, too.
When we first started, the children were isolated, scared, suspicious and illiterate. Today, 15 of them take the Kolewa schoolbus to Denpasar every day to get special education. The rest of them loyally take our classes and hope they will one day have the same opportunity. We have our own textbook and materials, and twice a year there's a family gathering for children and parents so they can exchange experiences.
And me?… My birthday was at the end of August. In "Rumah Bicara", our shelter home in Denpasar, a big surprise awaited me. A suprise that gave me, as founder and an advocate, a go-getter and a "mother", goose bumps… A wonderful film, especially for me. Giving me every reason to go on helping children emerge from isolation and every reason to go on for that larger schoolbus!