By Holding Nitti, team-member/teacher at Kolewa Foundation Bali.
Teaching jobs are often lucrative and satisfying for people who love to teach. We are not all professional teachers, but we know one thing that majority of our students do love us, and we guess this is the point where good things start to happen. There are some joys and also difficulties during teaching English in Niti Mandala Club Bali. Why ? Because 75% of the students that we teach are special need students. That's why sometimes it is difficult to find a good method or theory which matches with their needs.
This problem can be solved because of a good cooperation between the students, Teachers in NMC club, a great team from Kolewa Foundation.  Kolewa Foundation team consist of one of our staff members Holldin and volunteers/interns from Holland. Together they prepare everything starting from choosing the method, preparing the subjects and materials to create active and effective learning.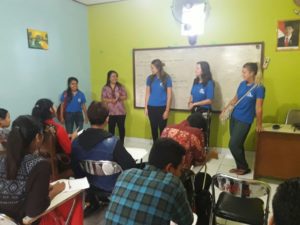 Teaching in NMC Club once a week on Thursday-morning, with different methods, topics, and themes, can motivate the students to learn English in fun way. And of course the volunteers and interns from Holland bring positive motivation to the students in NMC club, because directly they can practice the knowledge that they already learned. They can really speak with foreign people, which is a great challenge!