Thanks to many great sponsors and Kolewa Foundation friends, we are able to present this special annual report describing our schoolproject for children with a severe hearing problem. We managed to buy a schoolbus, recruit driver Komang and pay their monthly schoolfee etc. for their special education, speech-therapy and learning sign-language.
Review schoolproject 2017 – website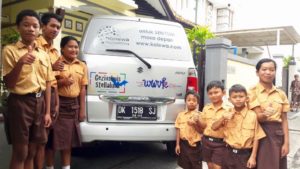 Of course we continue next year, 8 children will need your support again.
School-project group Karangasem
Salary driver, insurance, tax &
petrol and maintenance  73.000.000 idr               $  5.400
Schoolfee 8 children  38.400.000 idr                      $  2.850
Schoolfee 2 new children 19.600.000 idr              $  1.450
Total needed budget 2018                                         $ 9.700 / 12.625 AUD
Please contact us if you or your company/foundation is interested in funding. Your logo can be added to the schoolbus for 2018 as well. info@kolewa.com or kolewafoundation@hotmail.com