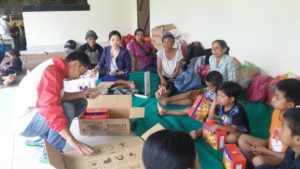 The authorities of the Indonesian holiday island Bali are anticipating an eruption of the Mount Agung volcano.  Mount Agung, with a height of more than 3,000 metres, has been showing signs of increased activity for days now. Thousands of villagers have already left their homes near the mountain. They are put up in emergency shelters in schools, sports centres and in the open air. According to a spokesperson of the national disaster response authorities, the alert level was raised to the highest level last Friday evening. About 10,000 aid workers have been mobilised to assist with the evacuation of villages. Some 80,000 people live in the vicinity of Mount Agung. The mountain is very popular among foreign hikers. The volcano last erupted in 1963 and 1964, which caused the death of about 1,500 people. There are roughly 130 active volcanoes in Indonesia.
The Kolewa team is especially committed to helping all the Kolewa families which are part of our aid programme but also helps many others. Board member Nusrani Putu is on site; driver Komang uses the school bus to help evacuate people. In Denpasar, we collect food etc.; you can show your support by donating.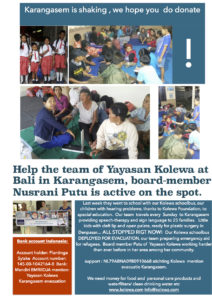 A number of our school project children have been evacuated and so have other families that we support on a regular basis. Our board member Nusrani Putu has also taken many evacuated people we don't know under her wing. Kolewa Foundation helps Putu take care of them and provides supplies. From Sunday, 24 September,  on our team went  daily to the area to help and to bring food and equipment. You, too, can help by donating!