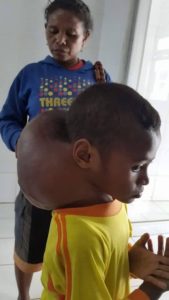 Orip Bifel was born on the 5th of june in Timor, a 2 hours distance from the city Kupang. That something was wrong with his health, was quickly noticeable because of the growing bump in his neck. It grew rapidly without someone taking action. Poverty and ignorance, denial and hope for better times? At Kolewa we already heard a lot of reasons in the past years. Mostly we heard that people felt ashamed and had  no money available for treatment.
That Orip is alive right now is a miracle. Normally a child with this form of meningocele, related to spina bifida (open back) and hydrocephalus (fluids in the brain) does not live for this long.
Currently, Orip is staying with his grandma in Soe with a vicar. With this vicar we are developing a plan that will lead to an operation and a solution. First, all the right papers must be arranged, but luckily we are making progress. Orip's grandma, of age and without an income, is responsible for the daily care of the child. This is also something we see a lot in Indonesia. When having a disease or a malfuntion, the parents distance themselves and the grandparents are being taken in responsibility for the child.
Orip and his grandma will have a safe haven at Kolewa during his treatment. There they will find a team full of compassion and knowledge of the collaboration with the Sanglah Hospital and their qualified doctors.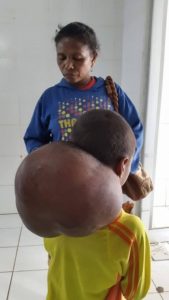 Also after the operation Orip will get enough time to recover and to be himself again.
The attention and activities will do him good and will give him a regained self-confidence. But also imagine the progress he will make if the enormous bump of fluids can be removed! It would mean that Orip could live normally again… move normally again, sleep again and LIVE again!
At this moment we need approximately 750 – 1000 euros to pick him up, provide him shelter, Ensure his medical care and for consulting the doctors. This is possible,
but only
with your help! Open your heart…. imagine it would be your child!
Concerning Orip
Or by bank transfer: Kolewa Foundation concerning Orip,   International: Swift ABNANL2A IBAN: NL79ABNA0980910668