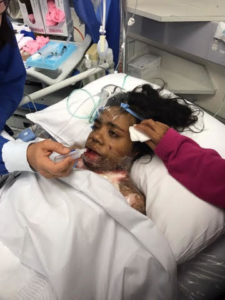 You surely remember her, the terribly burned young girl from  Kupang, we named her a living dead back then. Her situation was horrible. Exactly a year ago we started fundraising to make surgeries in Australia possible.
Your heart was big so we could bring her to Bali, arrange for passports, prepare to the western world and the heavy surgeries. In October she ledft for Perth, together with her niece Holldyn, The were
Uw hart was groot, we konden haar naar Bali halen, paspoorten regelen, voorbereiden op de westerse wereld en zware operaties. In oktober vertrok ze naar Perth, samen met haar nicht Holldyn. They were lovingly taken care of by a large group of friends Kolewa there, and found shelter with Aimee en Kevin.
No easy task, but a challenge with a great result. Plastic surgeon Dr. Tim Cooper, however, awaited the biggest challenge. Hours in the operation table brought us a totally changed Heldi. Although the girl had a terrible period of severe pain and had to endure a lot of vomiting (there were very critical moments), she gradually got better. Unfortunately it was not to avoid a second surgical procedure after a few weeks, the reconstruction of the lip had not succeeded once. Again Heldi underwent this very courageous and eventually she and Holldyn arrived on December 19 at Bali. Heldi even made it to the newspaper in Australia! Read here…
How to go from here
Helldi has missed at least ten years of her life. This means lack of education and self confidence. Kolewa Foudnation decided to do something about this. The traumatic years at home mean that Heldi has no need to return to Kupang
At Kolewa team she feels safe. However, she has dreams for the future: back to school and later teaching English to children or adults.
Good News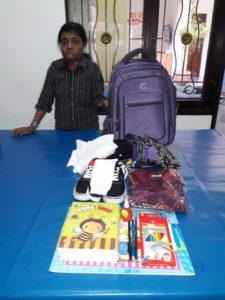 Heldi is accepted for the semeste January- June at a school for adult students. Here she can finish junior-high-school afmaken. The 9th of January is her first school day. She is very nervous and excited, has already a school uniform en is preparing mentally. That Kolewa staff managed this on such short notice is a wonder….however  although we have a view of the costst, funding isn't completely covered. We think Heldi deserves this chance! So we t
Wij zijn van mening dat Heldi deze kans verdient! So we take this gamble.
With your warm heart for Heldi this should become a success. For the first semester we need 2000 euro (school supplies, transportation and stay in our shelter). Half of it is committed to by a very generous and sweet 80 year old Dutch- Enlgish lady….now we need the other half!
Want to donate?
This is possible through: Swift ABNANL2A IBAN: NL79ABNA0980910668
Or Doneer nu! Bewaren Bewaren
Bewaren
Bewaren