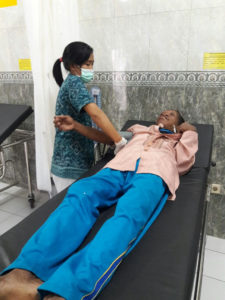 Mister Supari was born on the 1th of July on Eastern- Java, his parents lived in a small village named  Rogojampi Kederi.
He was born with a cleft lip. As it usually goes Supari too became subject of mockery and was bullied a lot. the family existed of the parents and up to 7 children, there hardly was income and especially for him no chance of education.
The other children went before him, where possible. Supari can't read or write. Still young he began mulling about his future. At the age of twelve he left  his house and took off to the little Nusa Tenggara island Komodo.
He got a job there as a servant for cleaning squid with a salary at that time of 100 roepia per day (1986). But the boy went homesick and returned to Java. Probably no warm welcome, after three weeks he decided te leave again, this time for good. At the age of 25, a wife was arranged for him. He married and got 5 children. Meanwhile he worked as a fisherman. But fate continued to haunt him, his boat broke down and there was nog money for reparation. Since then Supari fishes from the beach. The little bit of fish he catches he sells. Sometimes he uses a canoe to be able to go further on the sea and then his catch is a little bit bigger.
His average income now is 50.000 idr a day, euro 3,50.  When the weather is too bad his wife an he gather fire wood for selling, they have to do something! A bundle of wood delivers about 2.500 idr op, 18 cent. Too little to feed the family for the day. Mister Supari always held hope for a surgery. His income however never gave him the opportunity to look for help. But now finally his dream comes true. Thanks to the support of Kolewa Foundationen, the financial support of Project Namaste of Franeker (transportation and sheltering) and Rotary Club Nusa Dua (operation) he arrived in the meantime at Bali.  Hij told us in the interview that he never could imagine to be in a plane and at a surgery table. The 7th of Januari 2017 was his big day. At dawn Supari was hospitalized at Dharma Yadnya ziekenhuis and helped by plastic surgeon dr. Asmarajaya. It's really too bad for words: with local anesthesia and a half hour surgery Supari's life changed forever. How different things could have gone if he as a baby could have had this simple surgery … In two weeks he returns to Komodo, more self confidence, happy with his new looks and with trust in the future.  If you feel for Mr Supari and his companions … your donation is more than welcome on account Swift ABNANL2A IBAN: NL79ABNA0980910668.
Bewaren