It is possible to support Kolewa in different ways. For instance you can do a one- time gift, but it is also possible to become a regular donor.
Fixed donorship
In order to support the foundation more structurally, it is possible to provide a periodic contribution. If you want to make a regular donation, we discuss with you how you want to be informed about the progress of our work or the specific project you are donating to.
Accountability of donations
We keep it personal and inform you as you wish: do you want to be informed periodically by email, do you want to receive our annual report or policy plan, or feedback at the end of a project? All is possible. We consider it important to maintain direct contact with donors about the use of their donations. We protect your privacy the way you want it. We discuss with you wether we may do a listing on our website and Facebook page of your donation. If  appreciated, a personal visit can be made by one of our board members to tell about a project.
For anyone who is interested in what we do there is our Facebook page and Twitter account where we post every day messages, photos and videos about our work. Also our founder Syta Plantinga is showing daily activities in Bali and Holland on her Instagram account.
We are very pleased with our loyal donors. They are both individuals and foundations, religious organizations, businesses, etc. Kolewa has an ANBI recognition, thus we are a registered charity. For you as a donor (in the Netherlands) it means that your donations are tax deductible. Also in Indonesia our foundation is registered officially in Jakarta and Denpasar under the name Yayasan Kolewa Harapan Indonesia.
On the  next pages you can read more about some of our donors
An example of our donors:
Harold en Ria van de Beeten: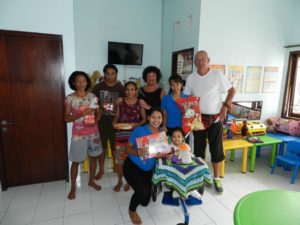 They annually meet to Bali for holidays, go on outreach and in the Netherlands they share their experiences and solicit donations. With these donations they regularly financially adopt children with cleft lip and palate from the NTT islands for surgery and residence. They also bring with them something fun always, children's clothes, toys and sweets! It's big party when  Harold and Ria are with us!

Piet en Elly Hutzezon: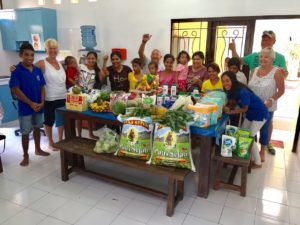 They too come to Bali with resources for the Foundation. They adopted three children for surgery in 2016. During their stay they follow the whole process: the arrival, hospital stay and follow-up. They are welcome guests in Kolewa shelter and regularly bring friends along. Team member Dessy then goes with them to the market and a full table of groceries is the result.

Kumpulangroep Den Haag: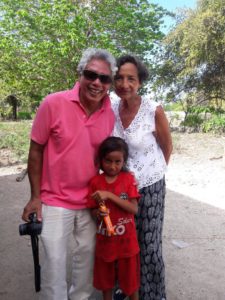 Members of the Hague Kumpulan group started in 2015 with the financial support of the cleft-patient Revino from Sumba. In 2016 the group decided again to support and visit Kolewa foundation. Among others board members Ed Monteiro Miranda visited the shelter in Denpasar with some regularity. Given Revino still needs to undergo a second surgery there is regular contact with his mother. The involvement of the Kumpulan members is great. The couple Monteiro traveled with team member Widia along to Waingapu and visited their "sponsor-child" at home. A second patient from Agnes has also operated and funds are being raised to make a third operation possible.

HD-Consultancy Leiden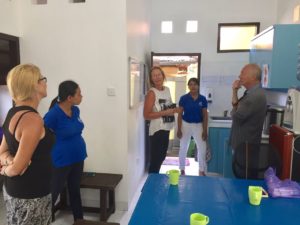 Hein and Marijke Dieben bear both Bali as foundation Kolewa a warm heart. With a monthly transfer they contribute to healthy food for our patients and attendants. We have, after all, every day more than 35 mouths to feed in our shelter. In November 2016 they visited the shelter.

Julia Wijnmalen: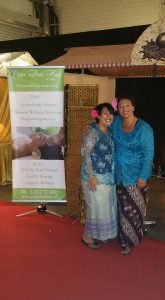 Julia sells envelopes in her massage practice Pitjit Dari Hati with occasional discount or free massage. The envelopes proceeds go entirely to Kolewa. She also advertises for Kolewa on all sorts of fairs and markets and collects money.



Red Carpet Champagne Bar Seminyak: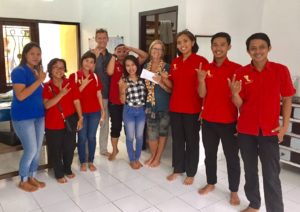 A fantastic night spot in the area of Seminyak at Bali, also al loyal sponsor of Kolewa Foundation. Every year we receive a nice contribution from staff and owners Andre en Esther, in the expenses of our charity-program. In 2016 they contributed to the school fee of children with hearing impairment. Some of the staff member came to have al look at our shelter jome to see with their own eyes where their money is going to.


Childright, a good partner of Kolewa Foundation:
A fund that fights for children's rights world wide, and for better circumstances. Incidentally, we ask for support from a funds like Childright, often for an urgent request for help like a newborn child with cleft lip, for a first treatment or healthy food.
Besides that, Kolewa Foundation shares in the revenues of the two-yearly Gala in The Hague, which is completely organised by Childright.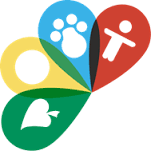 Care4needs:

We are very happy with the support of Care4needs for Kolewa, just like Kolewa a small foundation who is dedicated for a better world. World wide they search for projects, and try to make them well known, and thus find more donors. Early  2017, two member of the board of Care4needs visited Kolewa and thea made a short film. Look at their site for more projects.